Service
To our customers who plan to invest to real estate
The most attractive areas by Sentosa Land Co., Ltd / Group Companies.
Our Seamless and One Stop Service with the highest quality
By organizing the Virtual Company with our most reliable and professional group companies from our Alliance, we will provide our seamless and one stop services to our customers, exercising the organizer functions of "Mini-Trading House".
Comparing your individual contract with respective contractors, you can expect remarkable merits in the fields of efficiency and risk management.
Our proposal of legal tax reductions plan (Action plans of cost reductions regarding tax reductions of each fiscal year as well as inheritance tax)
In case of real estate investment, it is very important to take effective measures in advance to prepare for legal tax reductions action plans (such as the cost saving plans of tax reductions of each fiscal year and inheritance tax etc.) because the investment amount involved is generally expected to be large.
English services available for foreign investors
Foreign investors can legally invest to real estates in Japan as many Japanese investors do, provided that you (as a non-residence) would establish a resident company of owning, leasing and managing your real estate. For foreign investors, we are fully prepared to provide one stop service in English (including but not limited to: preparation for establishment of a company and data inputs of accounting in Japanese) .
As we have close relationship with Japanese Mega Bank, we can coordinate businesses of foreign exchange control and opening of accounts for a resident company, whose director is even a non-resident, therefore, you can safely introduce us to your foreign business partners.
Example of Real Estate Investment Service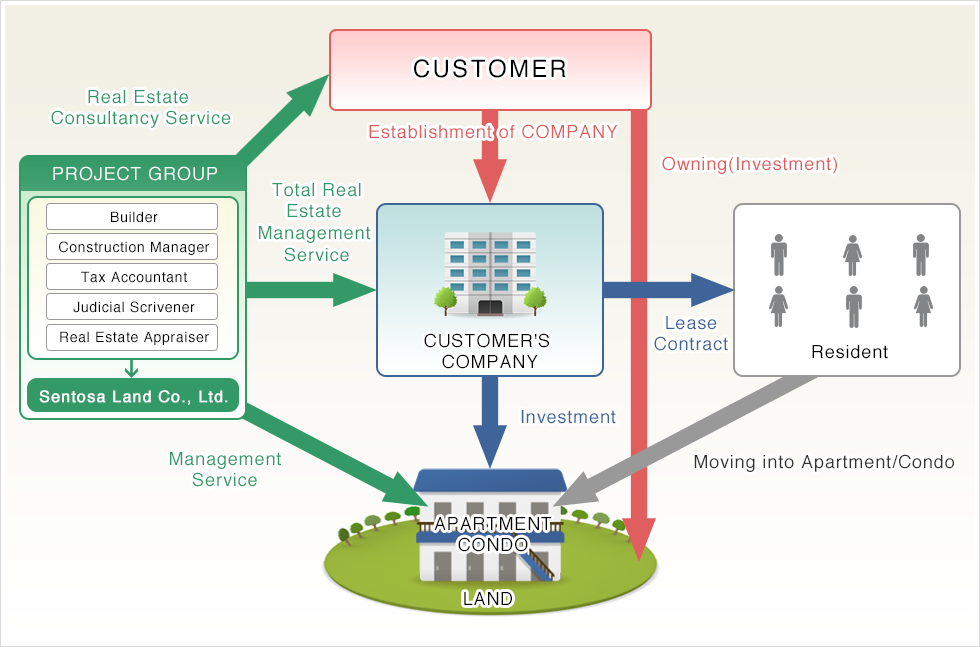 The example of receiving IRR (Internal Rate of Return) by your owning land on which you would build an apartment for instance and leasing it out to the market.
In order to get stable IRR in a long span, it is most important to fix tax reductions plan well in advance.
We will support you totally beginning from the fields of establishing a company up to general management, on basis of our real estate investment support service.
Sentosa Land Co., Ltd. (the licensed real estate company) will act as a project manager and provide the seamless/one stop service to our customers by forming "Virtual Company" with professional real estate related group companies.
We will continue to support you further in the troublesome fields of real estate management and its operation (including but not limited to: the business of accounting data inputting).
We also can support you with other and additional fields in accordance with our customers' needs.
Please introduce a land owner(business and residence) of your acquaintances
Some of our customers do have enough cash flow of real estate investment but do not own land at this moment. They are sometimes seeking appropriate land for this purpose. We would be very much grateful if you introduce us your acquaintances who own land of business/residence and wish to sell it in the future. We are prepared to pay appropriate commissions if/when the purchase contract is materialized. For real estate business partners, we would like to discuss with you about the collaboration agreement beforehand.